Discover the fast, reliable and expandable e‑mobility installation from Woertz. With our future-proof flat cable system and modular design, we offer the highest safety standards and flexibility for your charging infrastructure.
Emobility with flat cable
Fast – A charging station is installed in under 15 minutes
Future-proof – Compatible with charging stations from all manufacturers
Reliable – System guarantee, tested system from a single source
Flexibel – Modular design, easy to expand
Safe – Highest safety classification B2ca s1 d0 a1
Questions? We will be happy to answer them.
With the flat cable system, the junction boxes are contacted mechanically without any risk of confusion and without cable separation on the flat cable to provide insulation penetration. This means that there are no serial contact points and additional transition resistances in the current flow. This eliminates the need for time-consuming cable cutting and allows a junction box to be installed in just a few minutes.
Charging stations can also be retrofitted at any point along the cable at any time, just as the power feed can be freely placed where it makes the most sense.
This means that parking spaces can be equipped with charging stations as required and do not have to be fully equipped from the outset.
The flat cable for e‑mobility is available in 5x16mm² and 5x25mm². The halogen-free 5x16mm² cable can easily be loaded with currents of up to 100A for installation types C and E according to NIN. And with the very heavy-duty 5x25mm² cable, up to 50 smart charging stations can be fed in with a single cable.
The flat cable system meets the highest safety requirements B2ca s1 d0 a1 according to the Construction Products Regulation, protection class IP65 and is UV resistant.
Schema Elektromobilität mit Flachkabel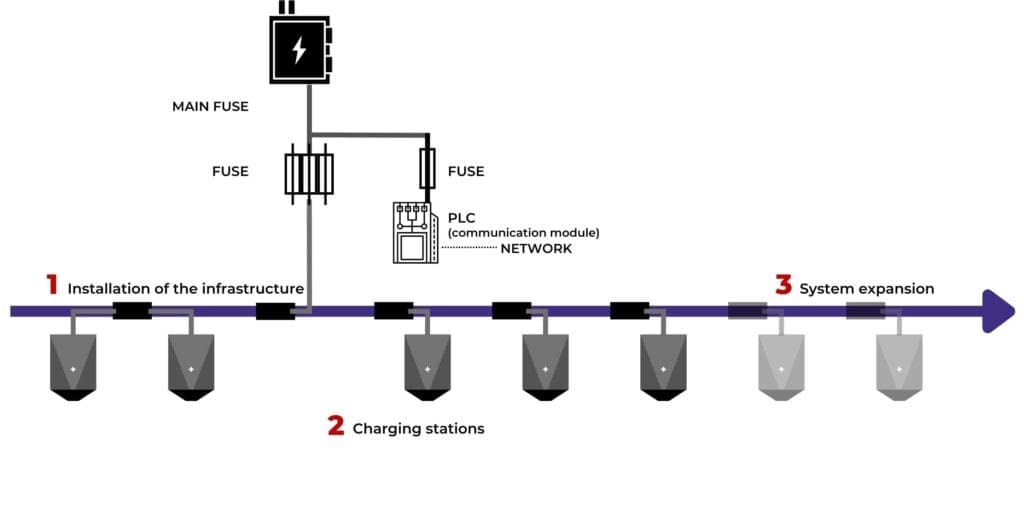 With our pre-assembled junction boxes with two outgoing cables, you can install two charging stations at once.
This allows you to connect two charging stations four times faster than with the conventional round cable method.
Optimising the installation time by 300%!

Product systems for e‑mobility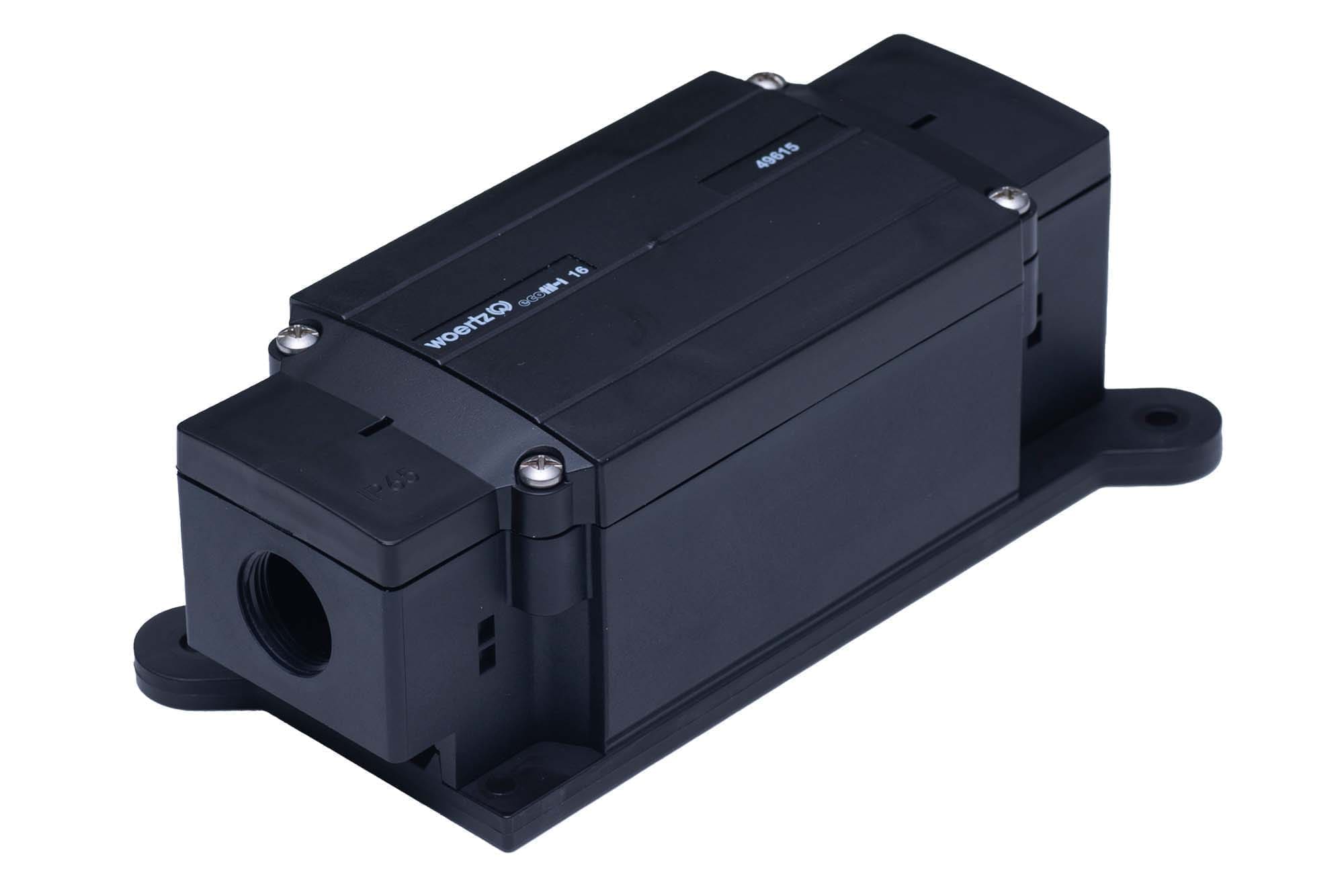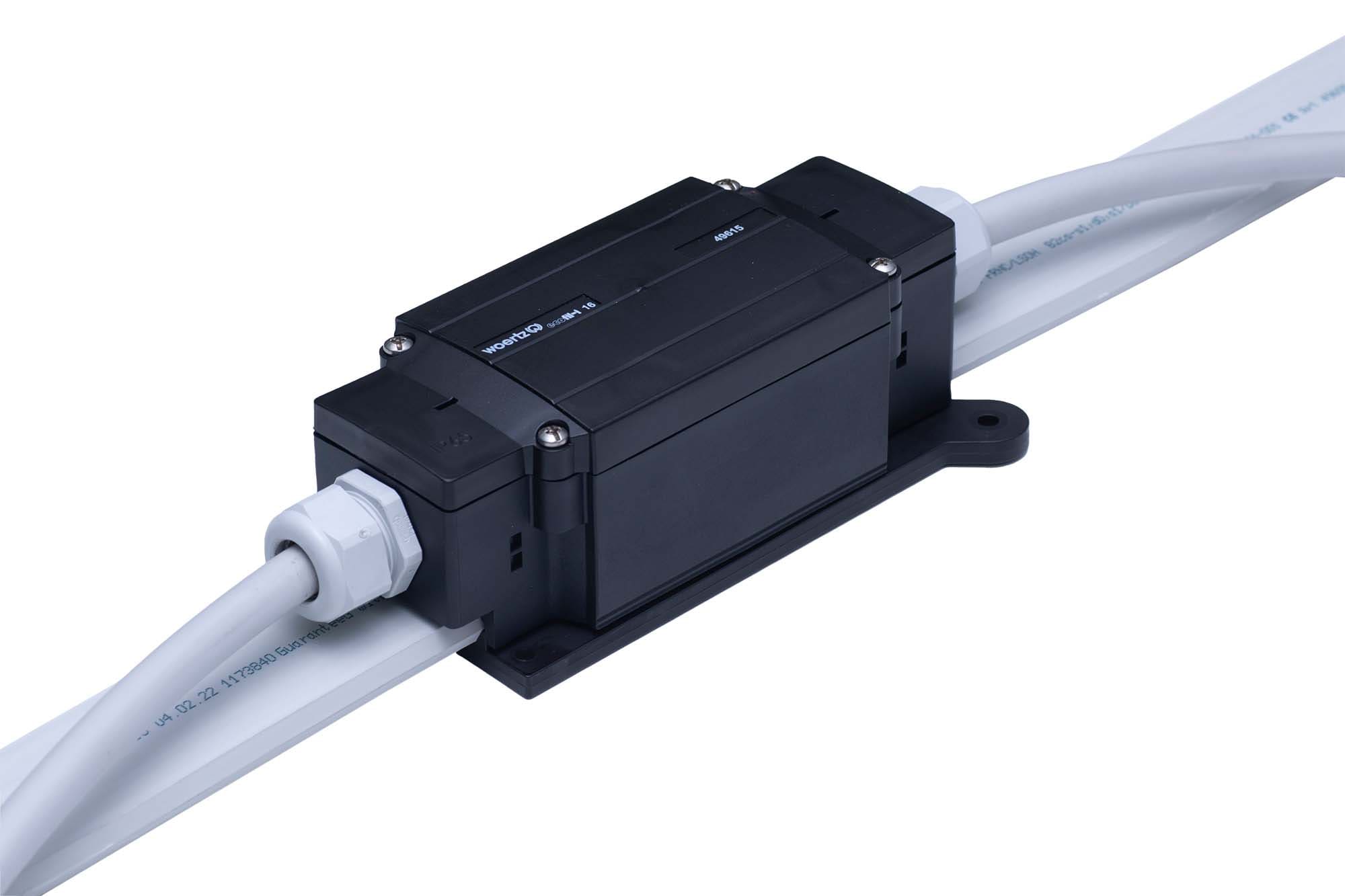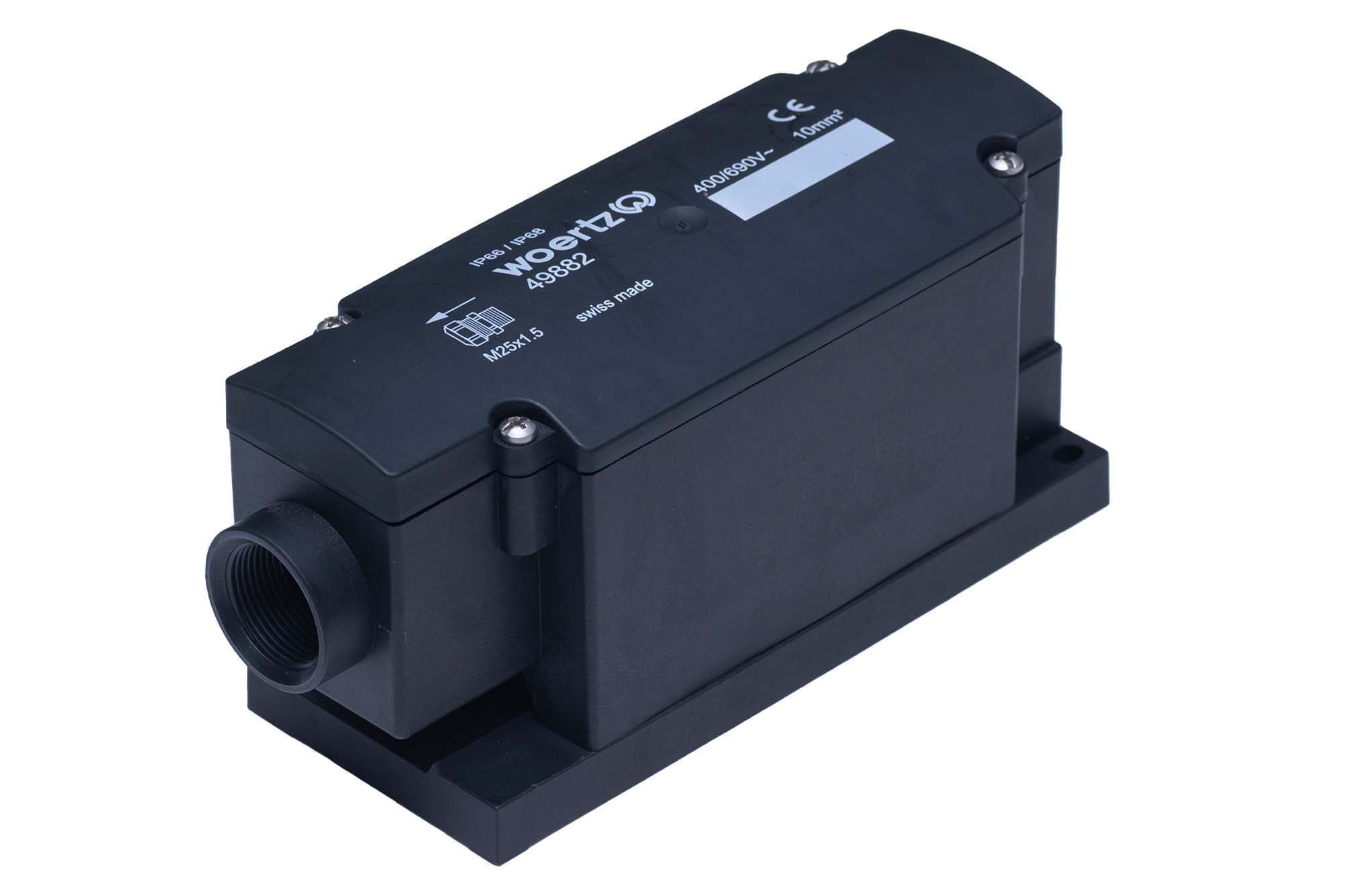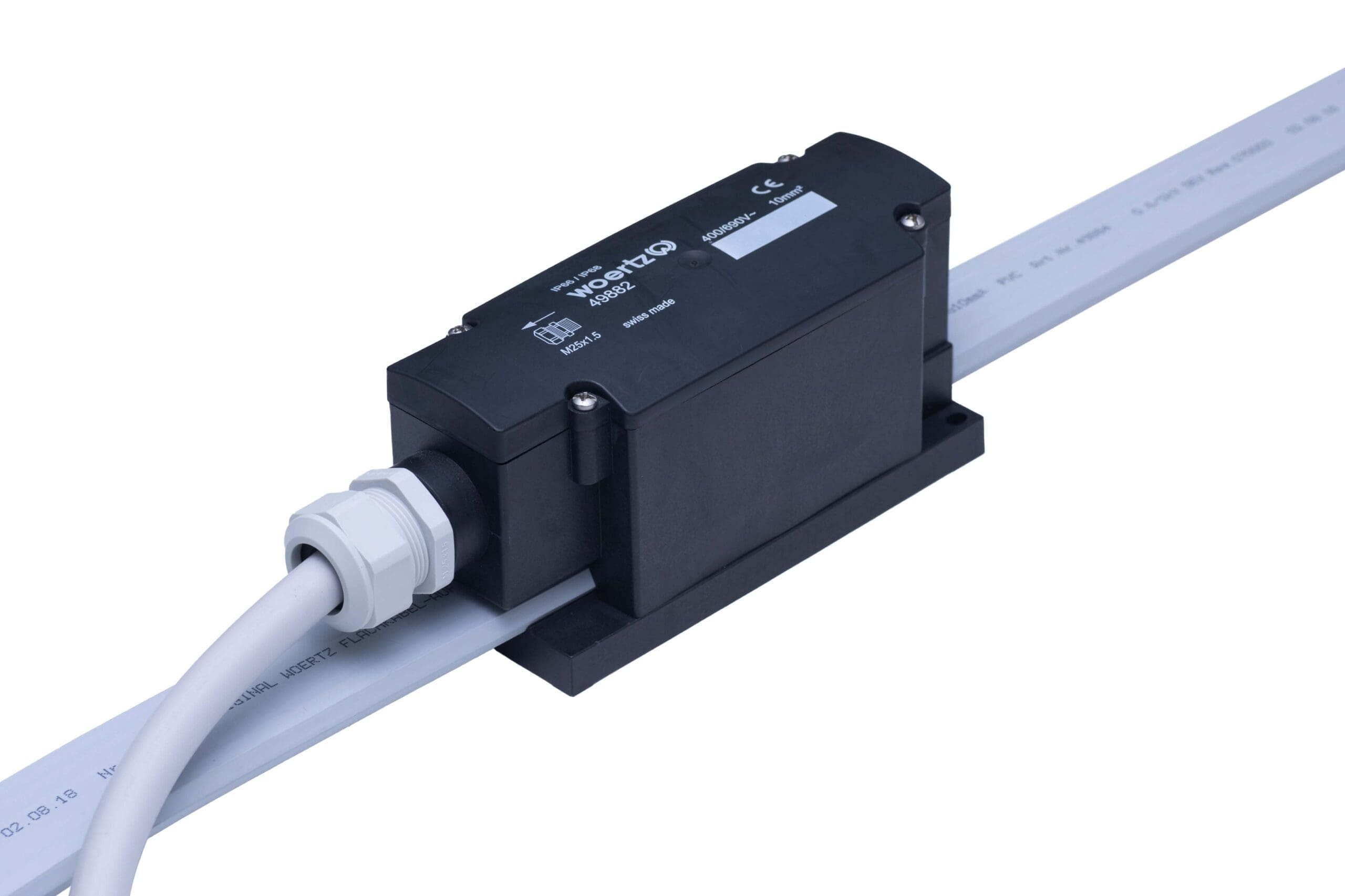 FAQ – Frequently asked questions
With the patented Woertz Piercing contact, a pointed screw or knife penetrates the insulation of the flat cable and enters the cable strand. This process pushes the stranded wires apart. The individual wires are in contact with the screw or blade surface over a large area, but the stranded wire is not cut through like with conventional contacting. The stretching of the individual wires creates a contact pressure that favours current transmission between the wires and guarantees low resistance values. Flexible mounting options and a wide range of applications are the strengths of this type of contacting.
Plug connections are additional contact points. Contact points are always weak points. Reducing these to the absolute minimum is what sets this system apart. A plug only makes sense where there are no high charging currents and frequent unplugging and plugging in is to be expected. However, the outgoing cable is normally fitted once and does not even need to be replaced when the charging station is replaced. You simply connect it to the new charging station.
A plug is more than unnecessary here and brings with it some major disadvantages in terms of energy efficiency and safety. Especially when high charging currents are present, as they are in charging infrastructure, plug connections cause additional resistance, voltage losses and susceptibility to faults. Additional costs for the plug are included in the price of the cable and the junction box.
Instead, Woertz offers pre-assembled junction boxes with outgoing cables already fitted. This saves installation time and at the same time ensures an optimal current flow without losses.
Classification B2ca includes the primary requirements of the cable for charging stations:
1. the containment of the spread of flame
2. the limitation of fire development
3. the limitation of the rate of heat release.
However, other criteria are essential to protect life and limb. Especially in the case of charging stations in underground garages and parking garages, the cables must not pose any further danger in the event of a fire. These additional classifications are indicated by the letters "s" for smoke, "d" for dripping and "a" for corrosive.
The additional classification s1 d0 a1 is the highest possible classification and includes:
s1: no strong smoke development
d0: no burning droplets
a1: no corrosive gas evolution
If no additional classification is given, the cable does not meet these safety requirements.