Our system offers quick and easy installation, flexibility and high energy efficiency. The safety-certified cables are suitable for diverse applications and reduce costs and resources.
Simple planning, quick assembly, pre-assembled and energy-efficient operation.
DALI wiring with Woertz flat wire
Quick – Connections can be installed in less than a minute
Flexible – Can easily be extended whenever and wherever
Zero confusion – Install with confidence thanks to system coding
Resource-efficient – Reduced number of wires / low voltage loss
Affordable – Less wires, less work, less costs
Safe – Highest safety classification: B2ca s1 d0 a1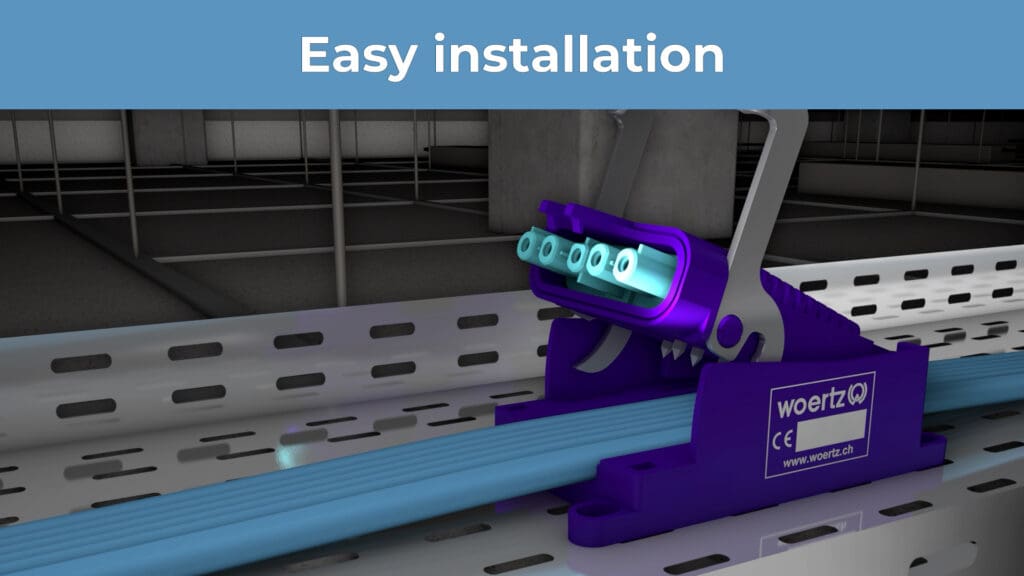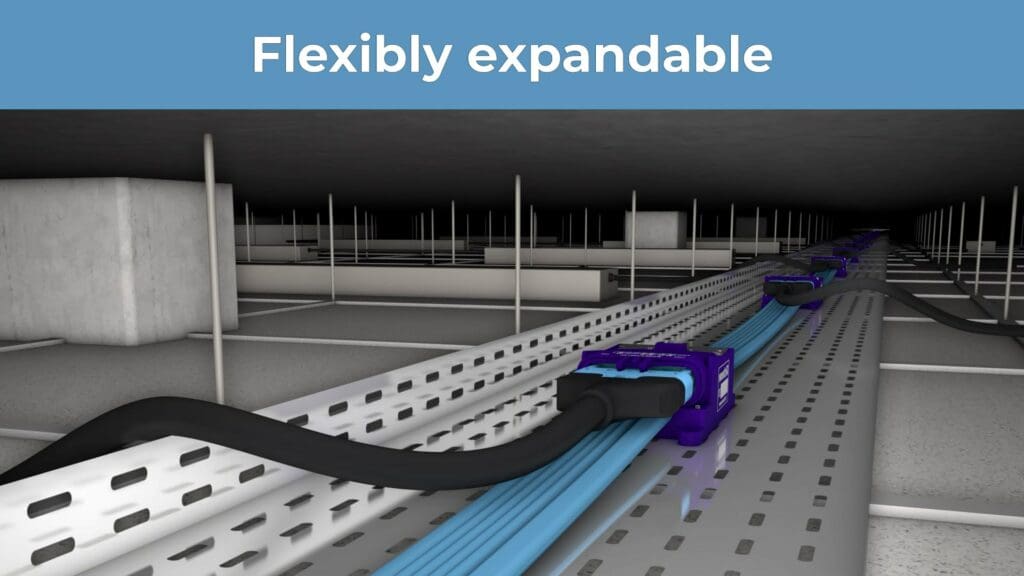 The Woertz DALI wiring system
The system comprises flat wires, quick-connection sockets, and a plug system to power and control up to 64 DALI lights for indoor as well as outdoor use thanks to IP66/IP68 protection. The flat wire combines power with a DALI bus line in one wire. This decentralised installation saves a considerable amount of wiring as well as installation time, and significantly simplifies planning.
Pluggable junction boxes are attached or screwed to the cable without cable separation by means of insulation piercing contacts. The connection can be made anywhere on the cable. With the new quick-connect sockets, a contact can be installed without tools in less than a minute.
This system saves lots of energy for its entire working life because the live main line is never interrupted, avoiding any unnecessary voltage loss at contact points like with conventional and pluggable solutions.
The flat wire for DALI is available in the sky-blue editions 3G2.5+2x1.5mm² (LNPE) and 5G2.5+2x1.5mm² (3LNPE). The latter is also available as a light-grey IP68 edition for outdoor use. Colours can be changed if desired.
The flat wire system complies with the highest safety requirements (B2ca s1 d0 a1) in building product regulations. The wire itself does not present any fire hazard at all.
Common applications include lift shafts or indoor lighting in schools, hotels, museums, churches, joiners' workshops, and commercial, office and public buildings. Or outdoor at railways stations, airports, railway and road tunnels, and access, rescue and escape tunnels.
Flat wires vs. conventional method
FAQ – Frequently asked questions
With patented piercing contact by Woertz, a pointed screw or knife pierces the insulation of a flat wire down to the wire strand. This pushes the stranded wires apart. The individual wires are mostly located at the screw or the knife surface, but the strand is not severed like with conventional contacting. The individual wires are stretched to produce contact pressure that facilitates power transmission between the wires and guarantees low resistance values. This kind of contact has the advantages of flexible assembly options and varied applications.
Plug connectors use plugs and sockets, so wires first have to be pressed, welded or soldered together before they can be fed into the plug connection. This method is especially practical if connections have to be removed regularly. This then produces multiple additional contacts that increase resistance and cause voltage loss. For the sake of energy efficiency, then, the live main line should not be used. Contact points are also high-risk. If these are arranged in a row, one contact point failing will cause all the following points to fail too.
With a flat wire, the live main line is not interrupted and is also not affected by a contact point failing. The current flow is consistently optimal.
The classification B2ca comprises the main requirements:
1. contains flame dispersion
2. limits the spread of fire
3. limits the heat-release rate
Other safety criteria are also required, however. This additional classification is provided with the letters 's' (smoke), 'd' (droplets) and 'a' (acidity).
The additional classification s1 d0 a1 is the highest classification possible and contains:
s1: no high smoke emission
d0: no flaming droplets
a1: no corrosive gases formed
If no additional classification is provided, the wire does not comply with the safety requirements.