Woertz offers a comprehensive fire safety system that meets the highest safety standards. Our flat cable system ensures fast installation, maximum safety and system guarantee. Our FE180 flat cable meets the most stringent fire safety standards and guarantees 180 minutes of insulation retention. Ideal for buildings and tunnels, with certified performance and the highest classification in the Construction Products Regulation.
Woertz system solution for fire safety
Quick assembly – No interrupting wires
Utmost safety- FE180, E30/E90, B2ca s1 d0 a1
All-round solution – System-tested wiring and wire routing
System guarantee – Guarantee for the entire system
Dr. Tamas Onodi
CEO Woertz AG
"Through design advantages and high-tech materials, the patented Woertz fire safety flat cable system is much safer than round cable and also offers superior installation speed advantages."
Fire-safety systems for buildings and tunnels
The Woertz fire-safety system is an all-round solution for the highest safety requirements, comprising wire routing, flat wires and connection terminals. In case of fire, it guarantees that safety-related elements are dependably supplied with energy to guarantee necessary air, light and signalling during an evacuation.
Woertz offers an all-round solution that is system-tested and has E90 functional integrity from a single source. Plus, FE180 flat wires meet the highest safety classification in building regulations – B2ca s1 d0 a1 – meaning it does not exhibit any critical behaviour in case of fire.
FE180, E30/E90 fire-safety system
Based on the flat-wire installation system, safety-related elements can reliably be provided with energy in case of fire.
Woertz flat wires are classified as FE180 safety wires.
The parallel strands inside the flat wire are ceramic-insulated to guarantee 180-minute insulation integrity. The distance between strands are calculated to ensure that, even in case of fire completely destroying the insulation material, there is no possibility of contact or short-circuiting between individual strands.
FE180 insulation integrity
Insulation integrity is tested to determine how long a wire can maintain its minimum insulation capacity during a fire and without any mechanical stress. The wire is exposed to 750ºC heat across 50 centimetres. If power is still running and there has not been a short-circuit or interruption after the test duration of 180 minutes, the test is considered successful and the wire receives the classification FE180 (FE = 'flame exposure' or 'fire exposure') for 180 minutes.
E30/E90 functional integrity (DIN4102-12)
The DIN 4102–12 test and the classifications E30, E60 and E90 is a system test for the functional integrity of both electrical elements and the load-bearing system.
'Functional integrity' means that the power supply to safety-related equipment is maintained in case of fire. This includes installations for emergency and escape-route lighting, smoke-extraction systems and firefighter lifts. The functional integrity indicates how long an installation will continue to function in case of fire. It includes the behaviour of the entire wiring system, including wires, terminal, wire routing and fixing material.
Classification B2ca s1 d0 a1
Building regulations and fire-performance classes indicate the classes that must be used in building installations today. Woertz flat-wire systems are halogen-free and have flame-retardant and low-smoke properties in accordance with IEC and EN.
The classification B2cs includes containing flame dispersion, limiting the spread of fire, and limiting the heat release rate.
Our flat wires have the highest possible classification for construction products, B2ca s1 d0 a1, meaning they are well above the standard requirements for wires without critical behaviour. Our solutions guarantee you carefree installation in buildings – even if anything were to go wrong.
Additional s1 d0 a1 classification
S1 do a1 is the highest possible additional classification for a cable. It is essential for the protection of life and limb. In the event of fire, the cables themselves must not pose any further danger. These additional classifications are indicated by the letters "s" for smoke, "d" for dripping and "a" for corrosive.
If no additional classification is indicated for a cable, these cables do not meet these safety requirements.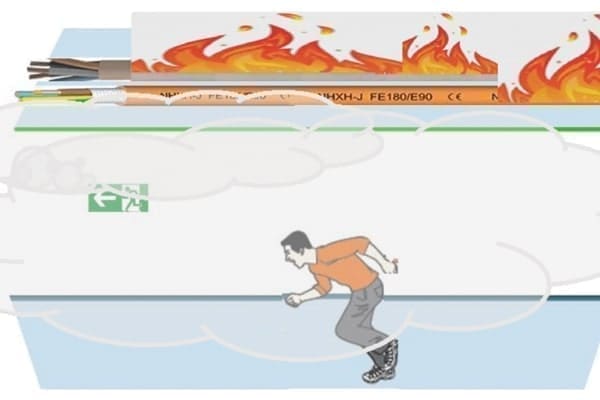 Fire safety – set up safely with Woertz
When setting up buildings, the choice of wiring for the power supply should be made early on. Key criteria in the decision include the size of the building and its purpose. A fire-safety plan is also absolutely necessary for wiring systems for increased security requirements. We have the right expertise to help you with this and can also demonstrate it with relevant certificates.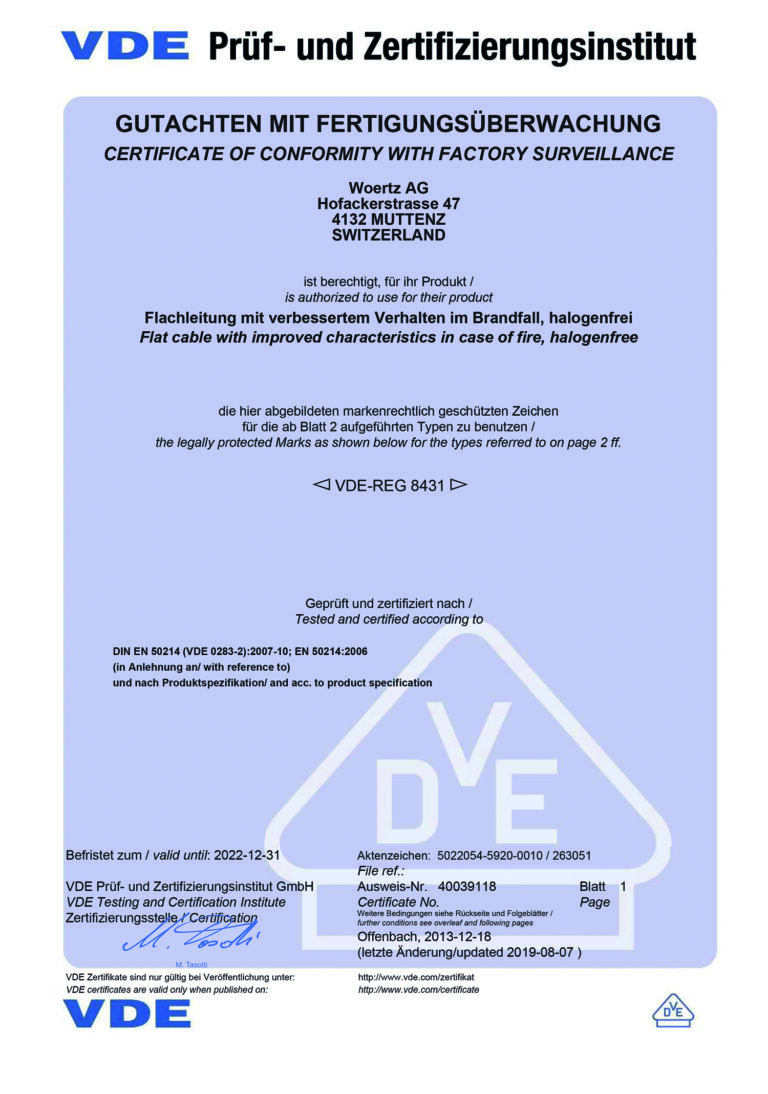 Fire-safety plans for wiring
The standard plan for fire safety breaks buildings down into fire compartments with power-supply wires inside or outside.
The safety plan focuses on fire sectors where a complete failure of the power supply would be critical, so it designs decentralised multiple coverage within a fire compartment.
Fire compartments 1–4:
Standard plan with power-supply wires outside the affected fire compartment.
Fire compartments 5, 6:
Standard plan with power-supply wires inside the affected fire compartment.
Fire compartment 7:
Safety plan with decentralised multiple coverage in one or more fire compartments.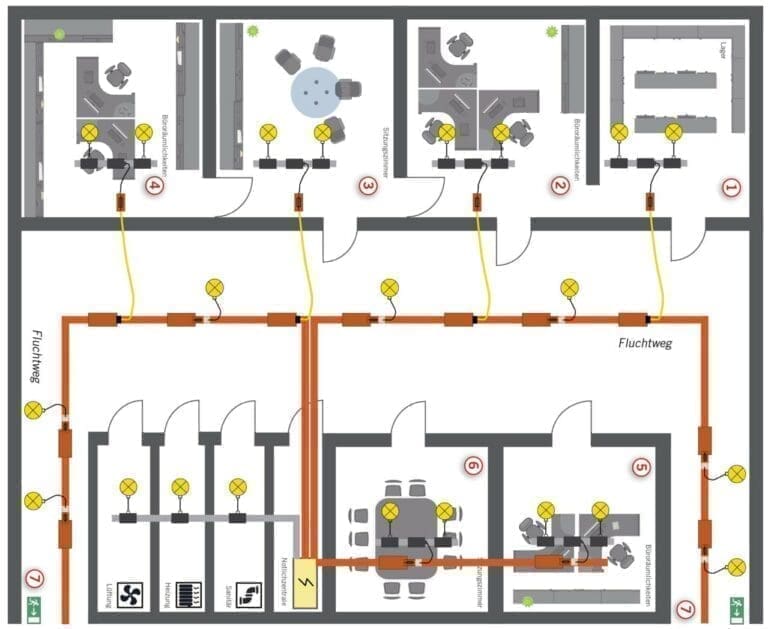 Fire safety in tunnel construction (emergency lighting / lighting / ventilation)
Woertz has specially developed a wiring system with massively increased security requirements for use in tunnel construction for road and railway tunnels. This modular system solution is set apart by its high water, dust and fire resistance.
The system solution makes it possible to pre-assemble installation-ready flat-wire strands that can be installed on-site in the shortest possible time. This reduces interruption of use to an absolute minimum in infrastructure constructions.
There are high requirements for wiring systems in infrastructure constructions like tunnels, underpasses and car parks. Dirt, humidity and high-pressure cleaning expose electrical installations to a wide-ranging demands.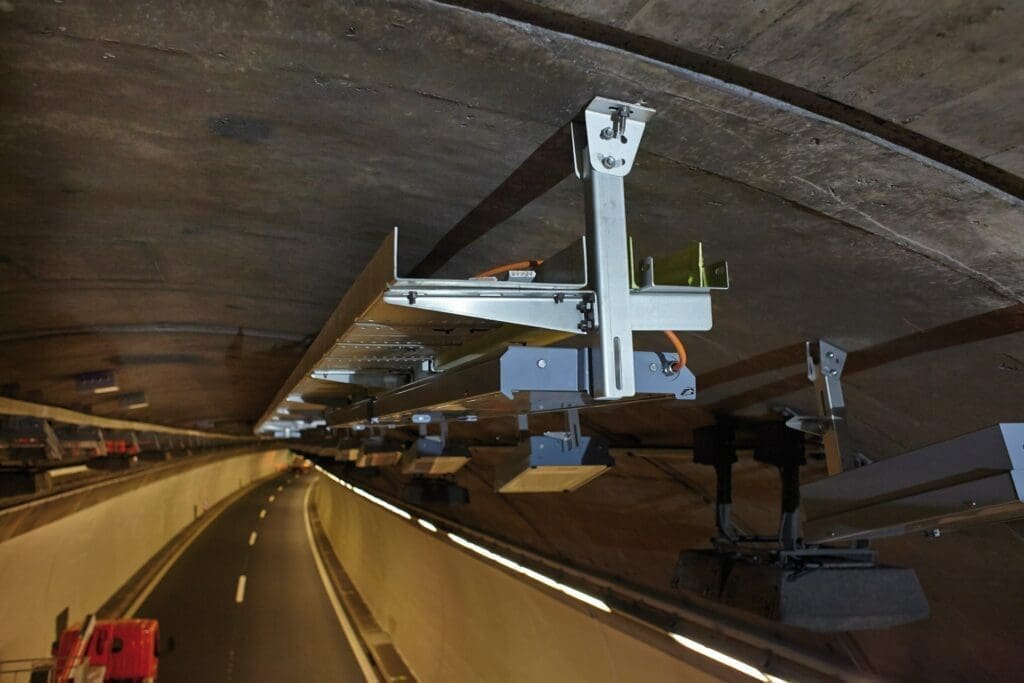 These wiring systems have to provide a high degree of security, reliability and flexibility for builders and investors, as well as guaranteeing an excellent cost-benefit ratio.
Long tunnels, sprawling company buildings, and public facilities need to be evacuated quickly in case of fire. While this happens, it is essential that the energy supply is maintained for emergency lighting, smoke extraction, emergency signals and communication systems.
E90 handrail system for illuminating escape routes
The ergonomic E90 handrail system with built-in lighting is a complete lighting system for tunnel orientation (handrail – duct – wiring – alarm unit – guide light).
The stable, self-supporting steel construction is rust-free and not only effectively protects safety-relevant parts in normal operation as well as in case of fire.
Facts:
Tested E90 functional-integrity system
Power supply with Woertz FE180 E90 flat wires
LED light with rapid assembly and replacement in maintenance.
IP66 and IP68 lights
Optimised LED lighting for consistent, linear 50 lux illumination of footpaths
Individual components are all easy to acquire and quick and simple to install.
All components are impact-proof and have protective insulation, min. IP65, halogen-free, flame-retardant and self-extinguishing.
System with lowest-possible combustible mass and lowest-possible smoke generation in case of fire.