Probably the largest Charging park in Switzerland!
How a public parking garage sets new standards
With 2,100 parking spaces, the Matterhorn Terminal Täsch is the largest alpine transfer terminal in Switzerland. From there, you can take the train to Zermatt, which is car-free. The terminal goes beyond a simple transfer platform and, in addition to ski passes, hotel information systems and a cafeteria, now also offers 131 e‑car charging stations in the first stage. The Matterhorn Terminal Täsch thus offers a new service that will be increasingly in demand in the future.
A charging infrastructure that takes into account the development of demand and can be easily expanded in stages. From currently 131 stations to 500 stations or even a full expansion of up to 2000 stations. The charging stations must be intuitive to use and must have a simple billing system that can also be used by foreign guests. To ensure operational reliability at all times, intelligent energy management is necessary. This should ensure that, on the one hand, there is always enough energy for the primary systems and, on the other hand, that the available energy for the charging infrastructure is distributed intelligently to the vehicles. In addition, the load management system should be able to control different load profiles. This is to ensure that in the event of emergency power operation or a total failure, the stations behave accordingly according to the specifications.
In addition to the requirements for the stations, the billing and the load management, a support process with instructions should also be set up in the event of a fault and internal employees should be trained accordingly. The employees should also be able to read out statistics at any time from their workplace via the Mobilecharge dashboard and start/stop or restart charging remotely. In addition, alarms must be possible so that the trained personnel can provide 1st aid or call for support via ticket.
Each of the 131 charging points, whether on the wall or on a ceiling column, is the AMTRON Professional R 22 C2 S. With this all-rounder, one realizes the smallest projects up to a project like the terminal in Täsch. The integrated cable holder invites everyone to simply wrap the cable over the station, helping to keep things tidy and avoid defective plugs due to rolling over. The 7.5 m long cable is sufficient for any electric vehicle, no matter where the connection is and how you drive into the parking lot. Authorization results from an RFID chip or, as in the terminal, a QR code.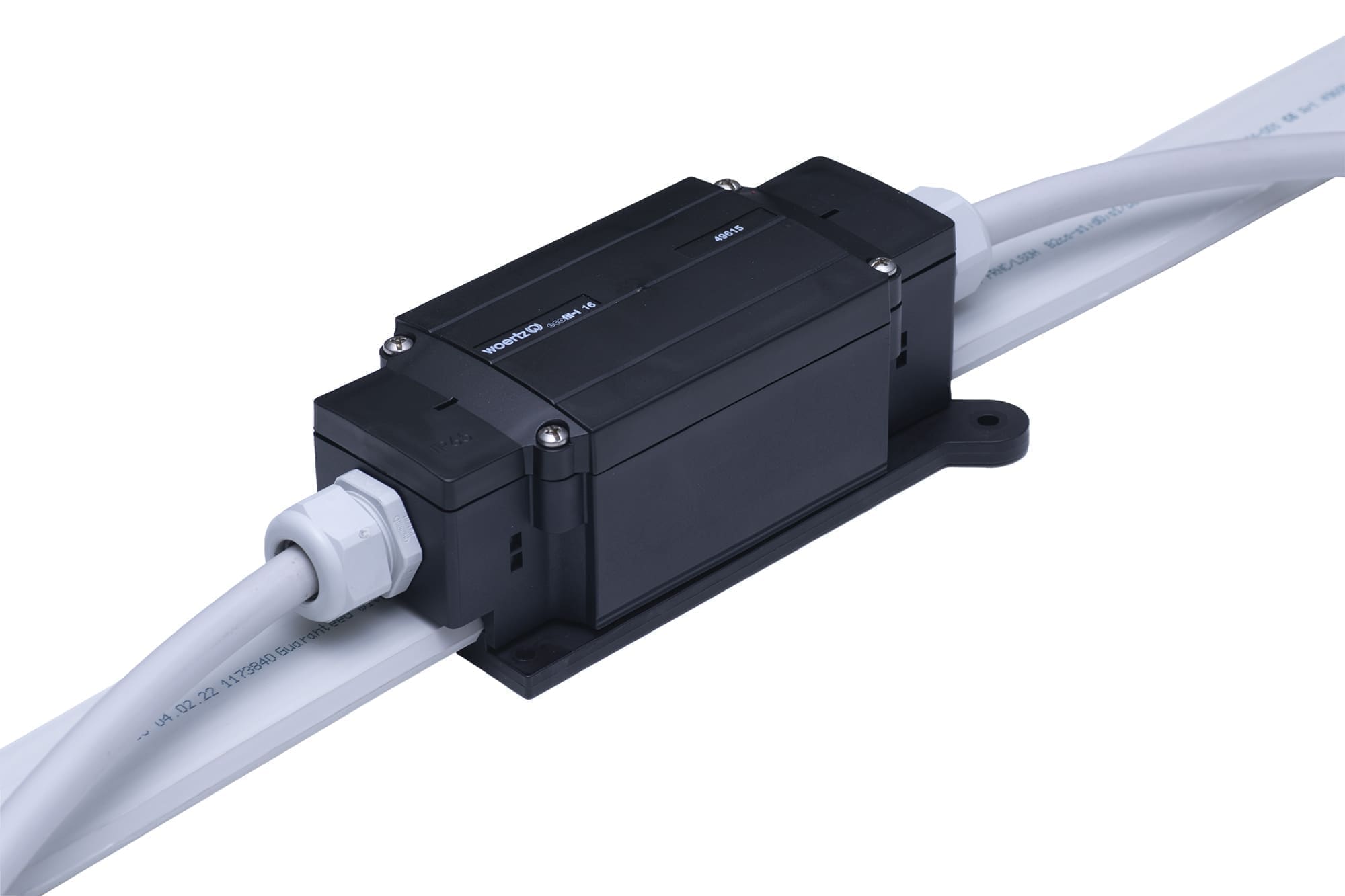 Robust, weatherproof and powerful – a flexible power supply solution for e‑mobility.